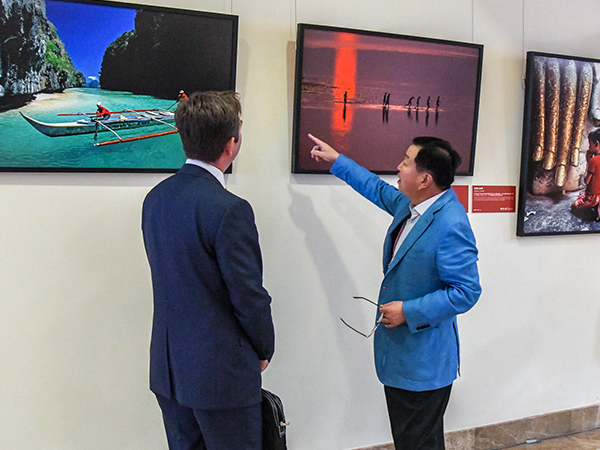 The Boao Forum for Asia Annual Conference 2018 runs from April 8 to 11 in Boao, Hainan Province. "Silk Road Journey" Boao Forum for Asia Annual Conference 2018 Special Exhibition presented a spectacular visual view of the Silk Road Journey to the more than 2,000 guests from around the world attending this forum.
 This year marks the 40th anniversary of China's reform and opening up. At this great historical moment, President Xi Jinping delivered a keynote speech at the opening ceremony. The scale of the conference is unprecedented.
 This forum is themed "An Open and Innovative Asia for a World of Greater Prosperity". Centering on the Belt and Road Initiative, some sessions are held under the sector "Globalization and Belt and Road Initiative", including "Globalization: the Next Phase". "Overseas Investment" and
"The 21st Century Maritime Silk Road and Island Economy". As China keeps advancing the construction of Belt and Road Initiative, the topic that how to better build and benefit from the Belt and Road Initiative gets much attention from the world. 
 The Silk Road Journey Photography Exhibition is the official exhibition of the Boao Forum for Asia. The Exhibition consists of pictures finely selected from 350,000 photography works by well-known American photographer Michael Yamashita who retraced the footsteps of Marco Polo and Zheng He along the Land and Maritime Silk Road from 1997 to 2003 and the copyrights of these pictures are now owned by Reignwood Culture Foundation. In line with this forum's theme, the Organizing Committee has added other well-known domestic and international photographers' works about countries where initiators of Boao Forum for Asia are from. These excellent photography works, recording the natural scenery, culture and people along the Silk Road with lenses, not only reflect the historical evolution of this cultural and economic route of Silk Road but also demonstrate the contributions made by china to world peace and development.
 Since it was first launched in Beijing in March, 2016, it has been put on display 16 times in many countries and regions including London, Hong Kong, Singapore and the U.S., etc. It has made its appearance at many major events including the NPC & CPPCC, the Hong Kong "One Belt One Road" Summit Forum, the Sino-European Entrepreneur Summit, the Belt and Road Forum for International Cooperation, Xiamen BRICS Summit, Hong Kong Belt and Road General Chamber of Commerce, etc., earning wide praise from all circles of society and it is regarded as the great treasure for Belt and Road materials.