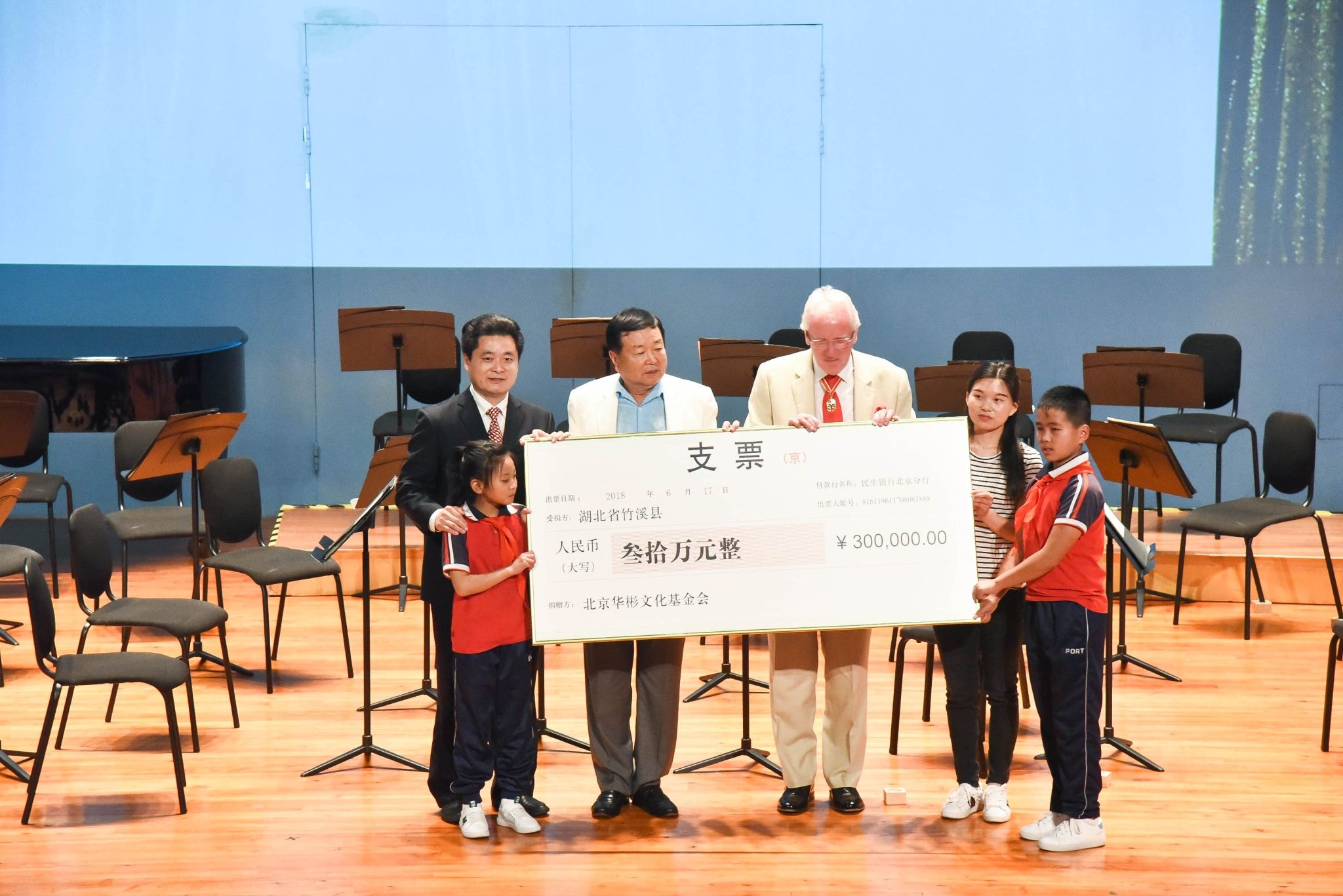 On the evening of June 17, "Poverty Relief and Reduction, Reignwood is Taking Action" public service concert was held in Qintai Chamber Music Hall in Wuhan. The London Symphony Orchestra, led by its Principal Guest Conductor Gianandrea Noseda, played some classical music repertorie incorporating eastern and western influences. Mr. Yanbin, Chairman of Reignwood Group, Sir Andrew Parmley, former Lord Mayor of the city of London and guests from other social sectors attended this concert. After the musical performance, the second donation of Love Sharing Fund ceremony was held.
This concert started with the two children from Zhuxi singing the Song of Yangzi River and the famous pianist Liu Shikun and a young musical genius playing the duet. The two children, which are funded by Reignwood's Love Sharing Fund, are from Zhuxi County, Shiyan, Hubei Province. Following the Song of Yangtze River, the LSO presented six wonderful musical performances incorporating eastern and western influences.
Music has no border and love has no destination. Enabling children in poor areas to receive good education is one major task of poverty relief and also an important way to prevent poverty transmission between generations.
This concert was hosted by Reignwood Culture Foundation and VOSS China. Being aware of that poverty relief in China isn't a pure funding for people living in poverty but has upgraded to a poverty relief model, Reignwood Group has held many large-scale poverty relief publicity activities during international culture exchange. After the musical performance, Chairman Yanbin, on behalf of Reignwood Culture Foundation, donated 300 thousand education fund of Love Sharing Fund to Zhuxi County.
As the first Chinese enterprise that has partnerships with the LSO, Reignwood Group carries a heavy responsibility in culture exchange between East and West. This year marks the third anniversary of the China-UK global comprehensive strategic partnership for the 21st century.
In 2017, Reignwood Group introduced the world famous brand VOSS water to Zhuxi County, one of the poorest counties in China and set up an education fund Love Sharing Fund. In the future, Reignwood will continue to be committed to combining poverty relief through education with poverty relief through industry and ecological development. It will also proactively promote targeted poverty relief and contribute to the country's poverty relief cause.