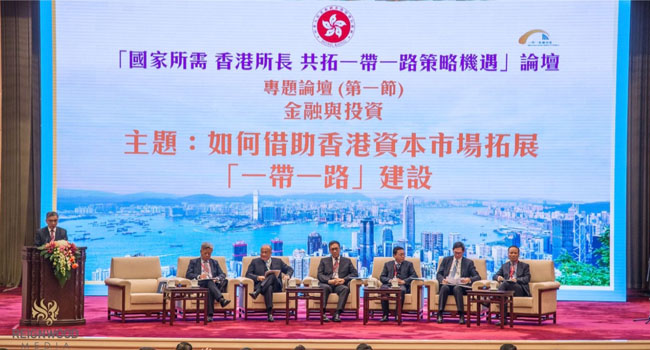 The Seminar on Strategies and Opportunities under the Belt and Road Initiative - Leveraging Hong Kong's advantages, Meeting the Country's needs, jointly organized by the Hong Kong Government and the Belt and Road General Chamber of Commerce officially opened at the Great Hall of the People in Beijing on February 3. More than 800 representatives of various circles attended the meeting to jointly discuss development opportunities.
The seminar comprised three thematic sessions: riding on Hong Kong's capital market when taking forward the Belt and Road developments; complementary co-operation with Hong Kong's professional services; and the integration of creative and information technology industries with pillar industries under the Initiative. Representatives from central governmental departments, domestic enterprises, Hong Kong government and chambers of commerce attended this seminar.
As reported by Xinhua News Agency, Zhang Dejiang, chairman of the Standing Committee of the National People's Congress, said in the keynote speech, over the past five years since the belt and road initiative proposed by President Xi Jinping, with concerted efforts, this initiative has gradually transformed from concept into action, from vision into reality. "At present, we have entered into a stage of comprehensively advancing this initiative, which will play a more significant role in building a community of shared destiny and pushing forward global development," he said.
Lam Cheng Yuet-ngor, Chief Executive of the Hong Kong Special Administrative Region, said Hong Kong will better adapt to national development on the basis of the "one country, two systems" principle. Hong Kong will play a significant role in finance and investment, infrastructure and shipping, economic and trade cooperation, people-to-people ties, development of the Guangdong-Hong Kong-Macao Greater Bay Area, and project interfacing and dispute settlement, Lam said.
Mr. Yanbin, chairman of Reignwood Group and one of the four initiators of Hong Kong Belt and Road General Chamber of Commerce, said in his speech during the lunch banquet, the Belt and Road General Chamber of Commerce is committed to connecting businesses and industries with countries and regions along the Belt and Road, expanding their business network and opportunities and facilitating economic development of countries and regions, thus contributing to the implementation of the country's Belt and Road Initiative.