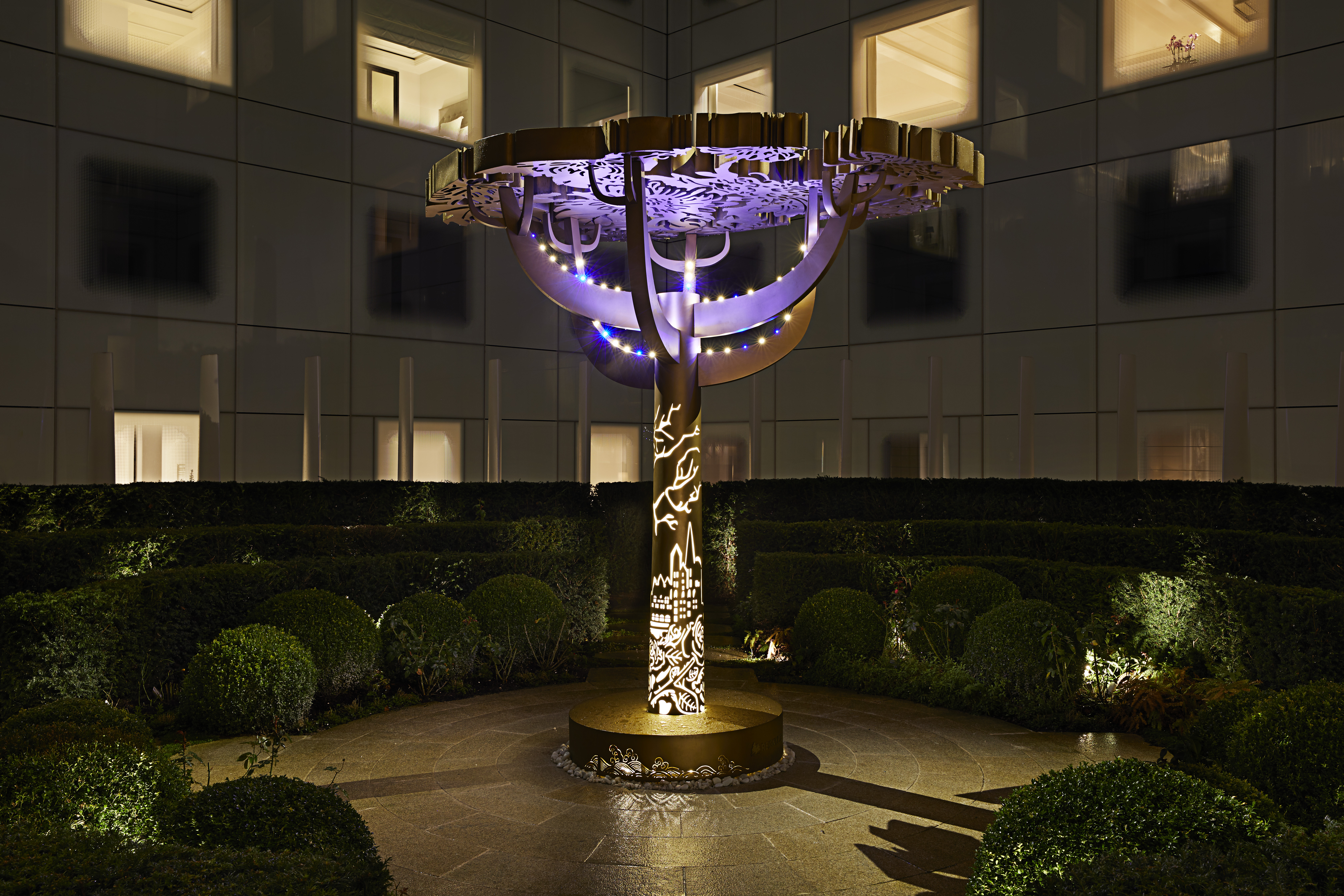 At the time-honored Ten Trinity Square in London, a piece of Chinese flower is quietly blossoming. It is a sculpture named Blossoming which was erected at the garden of this ancient architecture. It was designed and created by a youth designer team from Central Academy of Fine Arts, signifying the fusion and collision between eastern and western culture. The sculpture overall looks like a bushy and flourishing tree with its gold outlook signifying the 'Golden Era' of relations between the UK and China. Its top part, shaped like a pavilion, signifies the Peony Pavilion in Tang Xianzu's work; while the trunk part of the tree pictures an ancient castle and blossoming roses which are iconic signals of Shakespeare's Romeo and Juliet. While Tang and Shakespeare lived a world away from each other, they share in common the humanity of their drama, their iconic, heroic figures, their love for poetic lyricism, a lasting popularity – and the anniversary during which we still celebrate them. 
 
This site where the Ten Trinity Square stands was first populated by the Romans 2000 years ago, a place where ships could come and go easily on the tidal flows of the Thames. They brought with them fine pottery, tea and silk from China. This landmark building was opened as the headquarters of the Port of London Authority in 1922. Now, part of this architecture has become a five-star hotel. Entering into this ancient building, you can find the traces of history everywhere. For example, there is a room where you could find a wood carving made 100 years ago on a wall for red wine storage. The crafting is so brilliant that both the countenance of the people and the veins of leaves are so vivid. In another room called the United Nations Dining Hall, it's said that after the World War II, heads of many states gathered here and conceived the idea of establishing the United Nations.
 
In recent years, China and the UK, two countries with rich civilization and culture, are strengthening their exchange and cooperation in various fields, especially that the Chinese culture has frequently made their appearances in different regions of the UK. The sculpture Blossoming featured with culture fusion has brought Ten Trinity Square the beauty of the Orient and will further promote cultural exchange between the two countries.