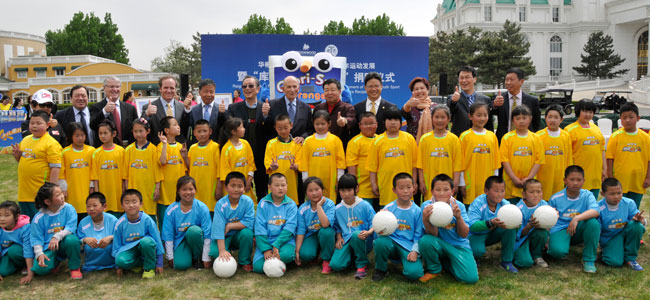 On April 20, 2017, Kenneth H. Cooper, MD, "the father of aerobics," donated the 'Cooper Aerobic Exercise Prescription' to Chinese youth football team at Reignwood Pine Valley, aiming at improving the physical fitness of Chinese youth and promoting the development of China's football industry.
The author of 18 books, Cooper has advocated revolutionizing the field of medicine away from disease treatment to disease prevention through aerobic exercise.  At the donation ceremony, Cooper said that football is a very healthy and interesting aerobic exercise, which can improve youth's physical fitness while health is the best gift to our children.
Ms Shenzhu, Secretary-General of Reignwood Culture Foundation, said at the ceremony that "Reignwood Culture Foundation has been concerned about the development in the education and health sector and this donation ceremony is part of the Foundation's efforts to practice its social responsibility."
After the ceremony, Reignwood Theatre set up two new football fields for the youth football team, with one named after Cooper, another one after Dr. Chanchai, Chairman of Reignwood Group.