Reignwood Group sets off a wave of learning the 19th CPC National Congress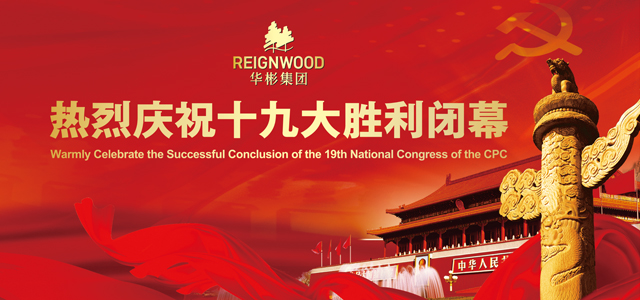 From 18th to 24th October, 2017, the 19th CPC National Congress that catches the world's attention was successfully held in Beijing. On behalf of the 18th Central Committee of the CPC, Xi Jinping delivered a report titled "Secure a decisive victory in building a moderately prosperous society in all respects and strive for the great success of socialism with Chinese characteristics for a new era." Reignwood Group organized over 500 managers from home and abroad to watch the live broadcast of the meeting and launched an in-depth study on it. Meanwhile, the group required its over 1,000 party-member staff to set an exemplary role in the group, learn the substance of the meeting, and put what they learned from the meeting into practice.
In this report, General Secretary Xi analyzed the current and future international and domestic situation and the principal contradiction facing Chinese society, mapped out three important strategic goals in the future 33 years and listed a 14-point basic policy. Meanwhile, General Secretary Xi pointed that building an ecological civilization is a millennium-long plan for China's sustainable development and the pursuit of harmony between humans and nature is about having both gold mountains and green mountains.
The period from the 19th to the 20th CPC National Congress is one when the first centennial goal is to be achieved and the second one is to start off. The year of 2018 is the 40th anniversary of China's reform and opening up; the year 2019 is the 70th anniversary of the Founding of the People's Republic of China; the year 2020 is one when a moderately prosperous society will be built and the year 2012 is the 100 anniversary of the Founding of the CPC. Therefore the next five years would be a key period of tireless efforts.
Remain true to our original aspiration and keep our mission firmly in mind. We are proud of the prosperity of our nation and feel lucky to witness this important historical period.
The blueprint has been mapped out and a new era has opened. Reignwood Group will, directed by the spirit of the 19th CPC National Congress, uphold the concept of "serving the country through industrial development", innovate green development and devote ourselves to building a green, healthy and beautiful China and further practicing our social responsibility, thus contributing our own efforts to fulfill the Chinese dream of national rejuvenation.