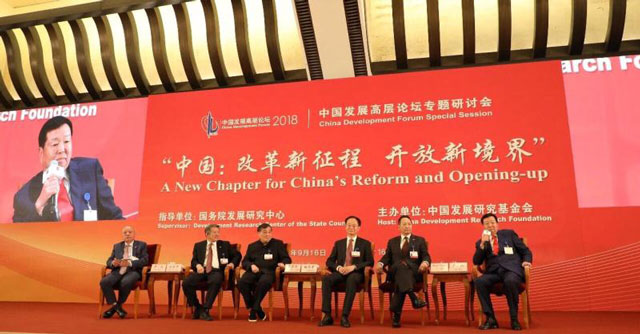 From September 16 to 17, China Development Forum (CDF)2018 Special Session was held in Diaoyutai State Guesthouse, Beijing. The theme of the conference is "A New Chapter for China's Reform and Opening Up". Political and business elites from china and abroad gathered together to hold a series of discussions on significant topics including Reform and Opening-up in the New Era, Global Trade System: Challenges and its Future, the AI Revolution, China-US Trade Friction, Cutting Tax and Administrative Fees, etc. Li Wei, President of Development Research Center of the State Council (DRC), LU Mai, Vice Chairman and Secretary General of China Development Research Foundation attended the forum. Mr. Yanbin, member of the 13th CPPCC Committee, Co-Chairman of the Belt and Road General Chamber of Commerce (Hong Kong) and Chairman of Reignwood Group was invited to attend the forum banquet and special session and to make a keynote speech.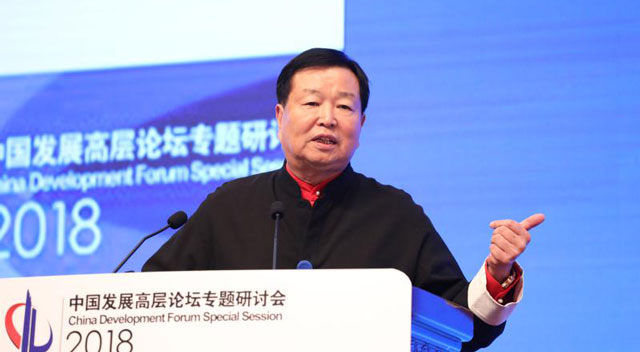 During his speech, he said that he has been deep in the FMCG industry for 23 years. In 1995, he introduced Red Bull to China, creating this new category of functional beverage in China's beverage industry. Till now, 600 thousand core terminals and 4 million channel terminals have been formed across the country, 36 billion cans have been sold and the accumulated sales has reached $150 billion, setting a record for a single product in China's beverage industry.
Also he stated that China's economy has been transitioning from a phase of rapid growth to a stage of high-quality development. Under this context, Chinese consumers are having higher expectations for consumer goods, which he thinks is a core point of our country's economic development, and enterprises should seize this core point and satisfy customers' needs through upgrading the market. At present and in the future, high-quality development requires enterprises to make the drink consumed by Chinese people more and more healthy and enhance their drinking pleasure.
In terms of consumption upgrading, he pointed out that consumption upgrading is closely associated with two aspects, strong market demands and high-quality supplies from enterprises. Enterprises should not stay put and wait for the opportunities, but rather concentrate on resources and take proactive actions to make reforms, only through which can they create new supplies, satisfy new needs and usher in a new consumption trend.
He shared three points about market upgrading taking Reignwood as an example. Firstly he mentioned that at present, through various capital operation methods including equity sharing and holding as well as purchase, Reignwood has created a multi-category product portfolio which includes the children's drink Capri-Sun of Germany, the functional drink Red Bull, the U.S. Vita CoCo, and VOSS of Norway, covering a range of population including children & youth and fashion and health-conscious people.
Secondly, in explaining why enterprises should introduce international mature drink brands, he noted that "technology innovation drives upgrading of product categories. Increasing added value is critical to corporate development. However, the large investment on it means high risks. China's further opening-up provides opportunities for Chinese enterprises to take the mature brands and technologies directly from abroad through capital, equity and market cooperation, and introduce them to China to serve Chinese consumers, which is a development strategy."
He added that over the past 20 years, China Red Bull has achieved great success. There are two main reasons behind the success. One is putting consumers first which can be reflected by the fact that the product price has remained the same no matter how the economic situation is. The second one is sparing no efforts in fostering a healthy concept among consumers, making more of them accept and rely on higher-quality consumption experiences.
He emphasized that high-quality development requires enterprises to hold a concept of high-quality value. "Healthy lifestyle and Fashion Leader" is Reignwood's development philosophy. Reignwood will continue to hold the concept of green development and shoulder its social responsibilities. It will keep itself engaged in poverty reduction, environmental protection and culture heritage conservation and other big strategies that benefit the country and people.